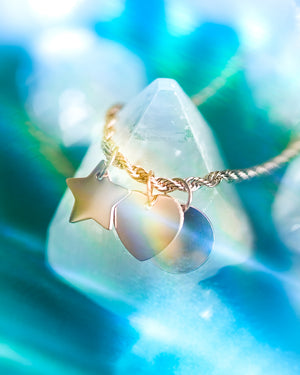 Wonderland L'atelier
EUPHROSYNE Bracelet (Rose Gold)
Sale price Price $35.99 Regular price
The charms on EUPHROSYNE are intentionally left black. We want you to give them the definition of yourselves. To hold your own shape, to be who you are and who you want to be without the labels others want to put on you, not even the labels you want to give yourself.
To realize that we are always fluid and we can always change, we can constantly reinvent ourselves and therefore,
We Are Infinite
Details:
-  EUPHROSYNE Bracelet is a 16+5cm extension bracelet made of stainless steel plated with 18K rose gold.
- Stainless steel gold plated products hold the plating around better than 925 Sterling Silver however, please still treat your jewelry with care such as keeping it away from sweat & prevent from showering with them so they can stay a part of your collection for a long time.