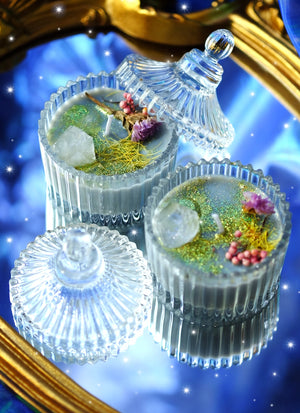 Wonderland L'atelier
Honey Milky Tea Crystal Candle (For flow & to embrace change)
Sale price Price $19.99 Regular price
This candle is inspired with the energy of transformation. Only through embracing growth and change, something new can sprout from it. 
I decided to go with apophyllite for this as it brings clarity and allows one to flow especially if they often struggle with uncertainty and a fear of change.
It also instills positivity so changes can look more hopeful rather than daunting.
Apophyllite strengthens the connection with our higher/soul selves, in doing so, we are more in tune with our spiritual body and can find a balance with our physical body. This in itself instills a deeper sense of trust, surrender and peacefulness especially for those who often suffer from anxiety or anxiousness over choices & change.
Coupled with the sweet and calming scent of honey milky tea, I hope this candle with help bring you peace and help you to embrace change.
Much love, Nicole


Please take appropriate measures & precautions when using candles. I am not liable or responsible for any negligence, misuse of the candles, ingestion or personal injury/injury to other persons and/or

 

animals/specimens/plants,

 

damage to property whether owned or borrowed. By purchasing, you are accepting these terms and hold full personal accountability of using these candles responsibly.